SMOKE DETECTORS ONLY DETECT KITCHEN FIRES.
THE WORLD'S FIRST
SMART COOKTOP

FIRE SUPPRESSION SYSTEM
FireBot uses a proprietary, non-toxic, 100% biodegradable liquid to safely, quickly, and effectively suppress the types of fires that account for about half of all home fires. In addition to being simple to install, we are also proud to be designed, tested, and assembled in the USA. There are several more reasons to choose FireBot to help protect your home, apartment complex, multifamily housing, or dormitory from kitchen fires, including: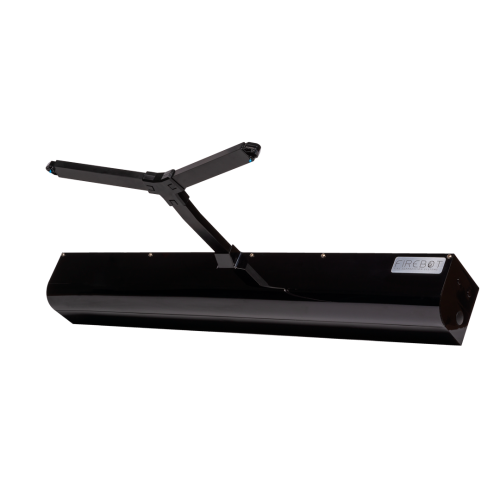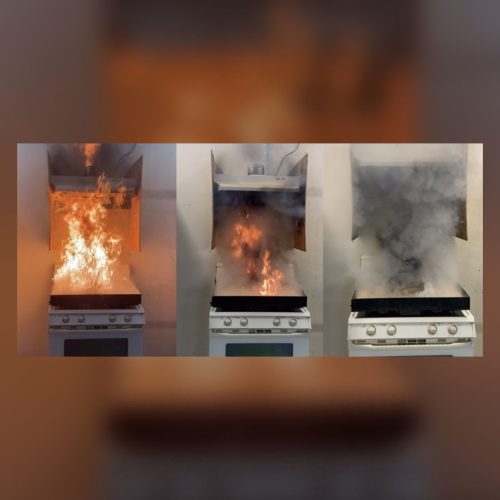 Every FireBot unit includes 10-year service life. The long term cost and savings of the Firebot is less than any other product on the market. This means that over the course of owning a FireBot system, you'll be paying significantly less than you would with other brands — and be better protected. Installing FireBot can also lead to potentially saving 5-15% on home insurance premiums, saving you even more money!
Appliances must meet very specific standards for fire suppression to pass UL300A. FireBot is the ONLY home fire suppression device in this price category to pass the UL300A standards, which means it has passed a stringent array of difficult tests that meet the requirements necessary for commercial kitchens and is rated effective for four-burner stovetops. Competitors' models have not been able to pass these tests, which include being able to extinguish a full stovetop and keep it extinguished for five minutes without a reflash.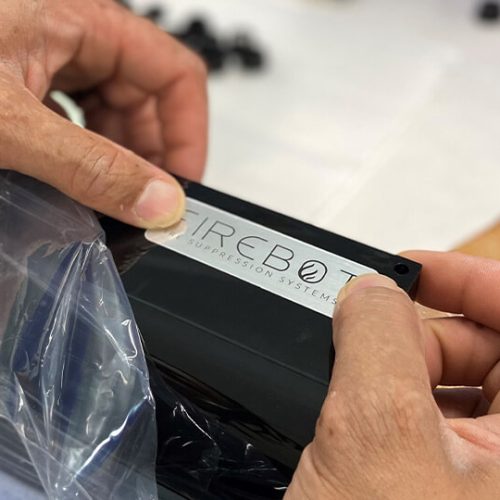 Fire Suppression FireBot uses a specially formulated liquid fire suppressant that is non-toxic and 100% biodegradable. This suppressant has three key functions: it extinguishes flames (including grease and oil fires), cools the cooktop surface, and applies a surfactant on the surface of pans to create a physical barrier that prevents reflashes from occurring by keeping oxygen away from the fire. Competitors' models use a dry powder that relies on gravity and only provides protection where the powder happens to land.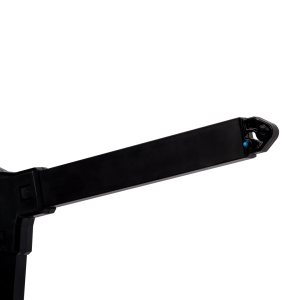 Activation System
FireBot's activation system is unlike any other product on the market. Modern high-temperature electronic sensors monitor heat readings and activate at the precise moment to provide earlier, more effective suppression than ever before. FireBot uses two thermal sensors to measure temperature, one on each side of the stove. As the temperature rises and threats of an out of control fire are present a high temperature alarm will start beeping. Once it exceeds the point where damage and a threat of fire spreading occurs FireBot will activate. False alarms are prevented by utilizing a proprietary algorithm developed by our team that can detect the difference between cooking and an out of control fire. Other models rely on decades-old fuse technology that only triggers when temperatures have reached such a high level to have already done considerable damage to your stovetop area and home.
FireBot also provides several alerts prior to activation for your safety and convenience. Audible alerts will sound for a high-temperature alert (audible beeping), an activation alert(solid beep), and a low-battery alert. No other system provides these types of audible alerts.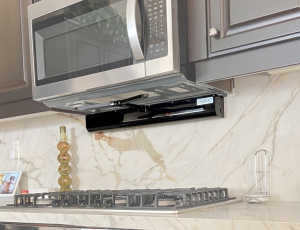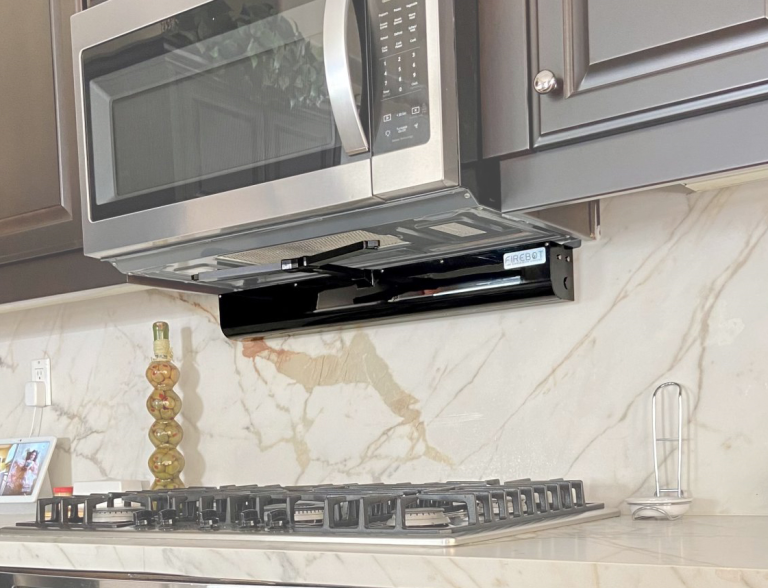 Installation, Aesthetics, and Wireless Capabilities
FireBot can be installed in any kitchen using one of three different methods, depending on your stovetop configuration. The system can easily be installed by anyone in about two minutes, using either a drywall mount, 3M two-sided adhesive for smooth backsplashes, or a set of universal microwave brackets that allow the device to be suspended from your microwave — no drilling required!
FireBot features a sleek, modern, and easily mounted style that blends in with your other kitchen appliances, becoming virtually invisible. Three different designer covers are available, including white, black, and stainless steel.
FIRE SUPPRESSION
FOR THE MODERN SMART HOME
The First Smart Fire Suppression Device
FireBot is the only home fire suppression system that is on par with the expectations of the modern smart home. No other system provides the capabilities to communicate on a wireless mesh network to communicate status and other environmental sensor readings, including water leak detection. FireBot can also wirelessly send notifications on three levels — to occupants, local property managers, and emergency response teams. For additional safety, FireBot can also send signals to automatically shut off gas, water, and electricity. Are you ready for home fire suppression that goes above and beyond anything the competition has to offer? Shop our online store today and purchase the FireBot system that is right for you.
SELF-ACTIVATING
FIRE SUPPRESSION SYSTEM FOR APARTMENT BUILDINGS
A low-cost device that detects and suppresses stovetop fires automatically for as low as $199.95.